Sherly Cottages serves you delicious and healthy traditional cuisines of Kerala which is a blend of both vegetarian and non-vegetarian dishes. The traditional Kerala Sadya (banquet) consisting of 24-28 variety of traditional vegetarian dishes served on a banana leaf is an authentic cuisine of Kerala. We also serve popular:
Vegetarian Dishes of Kerala such as Idiyappam with Curry, Puttu and Kadala Curry, Appam with Ishtu (Stew), Dosa Ghee Roast with Kerala Style Sambar, Idli Sambar, Masala Dosa, Uppumavu , OOthappam etc.
Non-Vegetarian Dishes such as Chicken Ghee Roast, Chicken stew, Chicken Chettinady Dry, Beef stew, Fish Moli, Chicken Biriyani, Fish Biriyani, Beef Biriyani etc.
Popular Desserts of Kerala cuisine such as Palada Payasam, Ethakka Appam (Banana Fritters), Ada Pradhaman, Kadala Pradhaman are our famous dishes.
Popular Vegetarian Dishes In Kerala Food
1. Idiyappam with Curry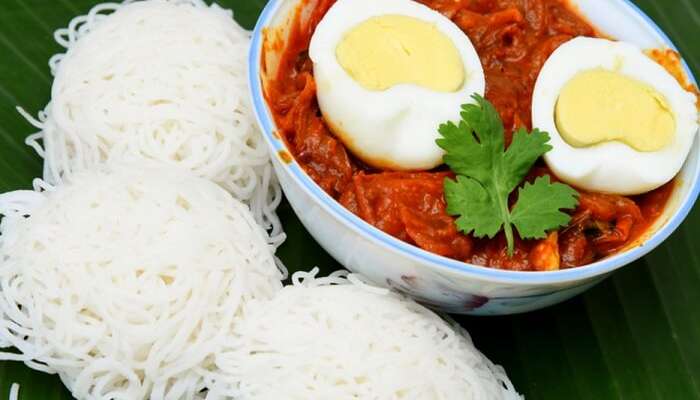 2. Puttu and Kadala Curry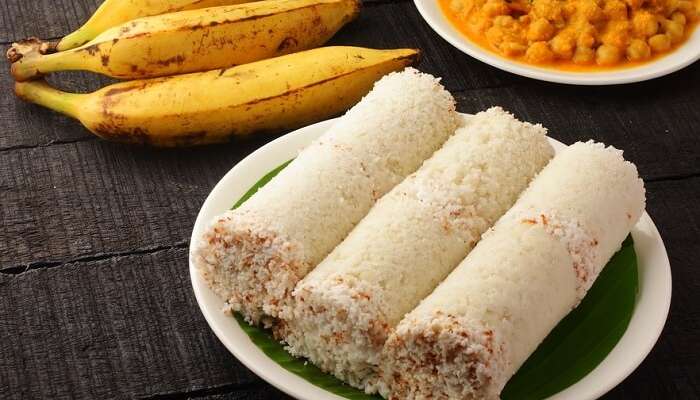 A famous breakfast recipe out of the many Kerala dishes, Puttu is a cylindrical steamed rice cake that is cooked in a mould with grated coconut. It can be served with ripe bananas, grated coconut, and kadala curry (the Keralite version of 'Kala Chana'! Don't be fooled by the simple appearance of this dish; Puttu can be very flavoursome!
3. Appam with Ishtu (Stew)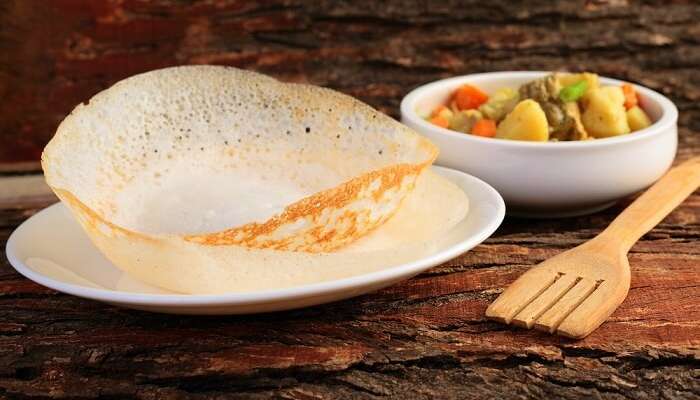 A staple element of Kerala cuisine made from fermented rice flour, coconut milk, coconut water, and a teensy bit of sugar, Appam is essentially a thin pancake with crispy edges. These crepe-like bowls are best enjoyed with Ishtu, a kind of stew that has been originally derived from the European stew and is made from coconut milk, cinnamon, cloves and shallots, and sometimes also mango pieces and vegetables. The aroma of spices with the sweet fragrance of coconut milk is enough to lure foodies to the kitchen!
4. Ela Sadya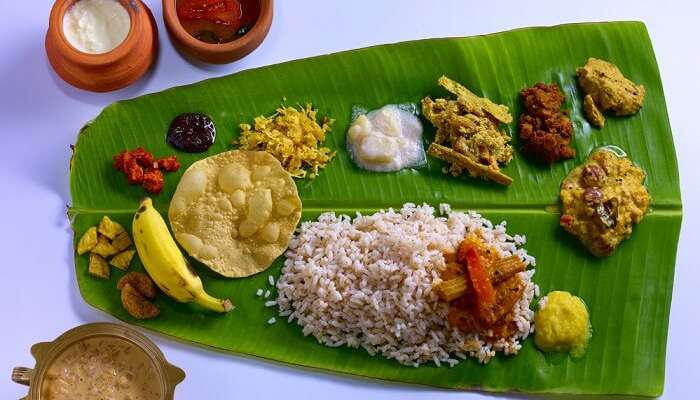 5. Dosa Ghee Roast with Kerala Style Sambar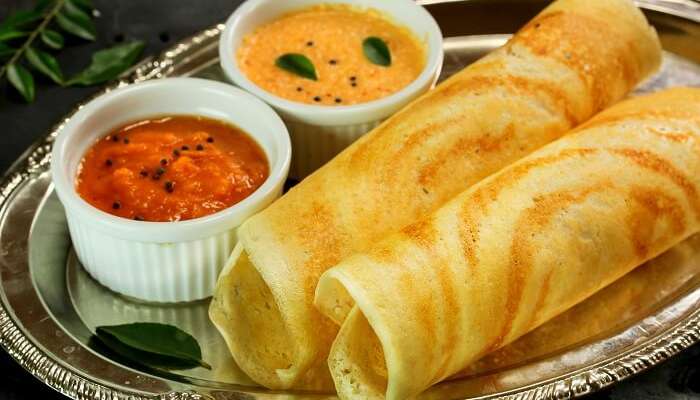 Listed among the 'World's 50 Most Delicious Foods', dosa and sambar in Kerala cuisine make up for a deadly combination! Made from fermented rice and lentils, the ghee roast dosa is first cooked to perfection in pure ghee, and then roasted till it gets as crisp as it can.
6. Idli Sambar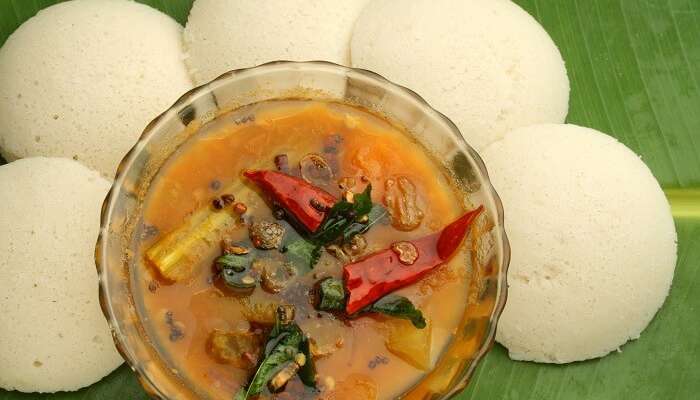 Popular Desserts In Kerala Cuisine
7. Palada Payasam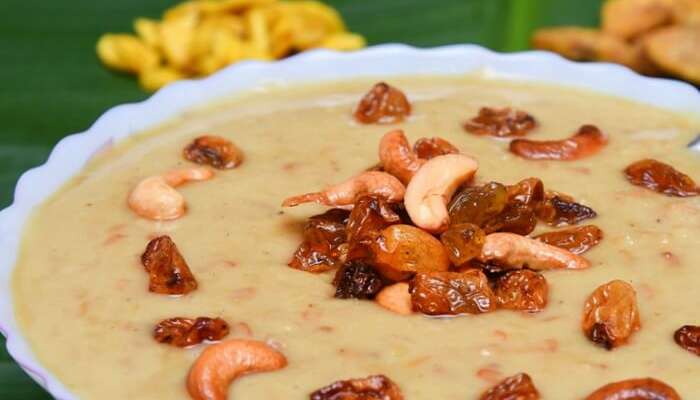 A delicacy amid the main food of Kerala that's now won the hearts of foodies all over the country, Palada Payasam is a sweet rice kheer prepared with palada. The dish is usually prepared and served during auspicious occasions and festivals like Onam. Among the many varieties of payasam, Palada Payasam is the most popular and is made out of basic ingredients like rice ada, milk, sugar, and ghee.
8. Ethakka Appam (Banana Fritters)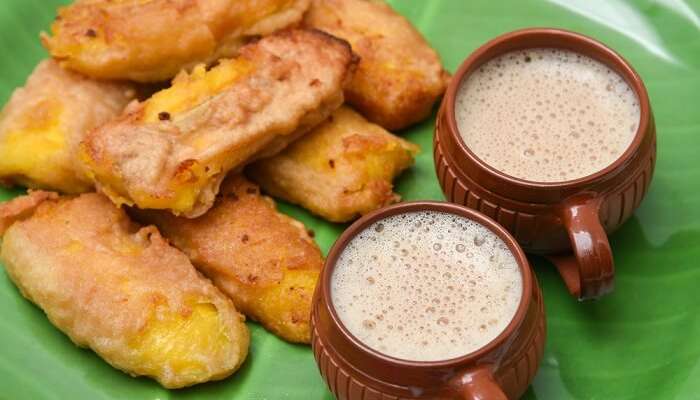 Pazham Pori or Ethakka Appam are both different, but equally delicious varieties of banana fritters that serve as a traditional tea time snack in the households of Kerala. They're simply ripe bananas coated with plain flour and deep-fried in oil and serve as an integral part of Kerala cuisine. Make sure you don't leave Kerala without trying some of these with your dose of evening tea or coffee.
9. Ada Pradhaman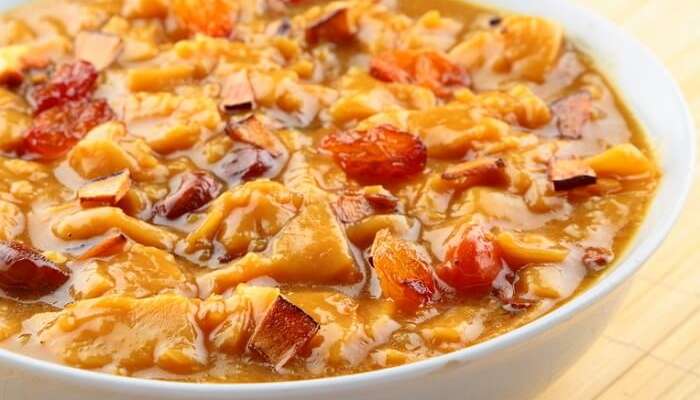 Another of those lip-smacking varieties of payasam one can have in Kerala, Ada Pradhaman chiefly contains pieces of rice batter (ada) and sweet coconut milk in which they are served. It is the favourite dessert dish in the list of Kerala food and one spoonful is all you need to fall in love with it!